Metro Record Storage and Shredding
Metro Record Storage and Shredding is a family owned, veteran-owned record storage and destruction business that has been protecting the information of numerous businesses across Kern County since 1984. Protecting your information is our priority at Metro Record Storage and Shredding. We ensure that the privacy of sensitive and confidential information regarding your company and your clients is protected and stored, or destroyed, in a cost-effective and safe manner, ensuring compliance with federal, state, and industry regulations.
Metro is in Compliance with Document and Records Destruction Regulations
HIPAA
Health Information Portability and Accountability Act
FACTA
Fair and Accurate Credit Transactions Act
All
All Industry Specific Regulations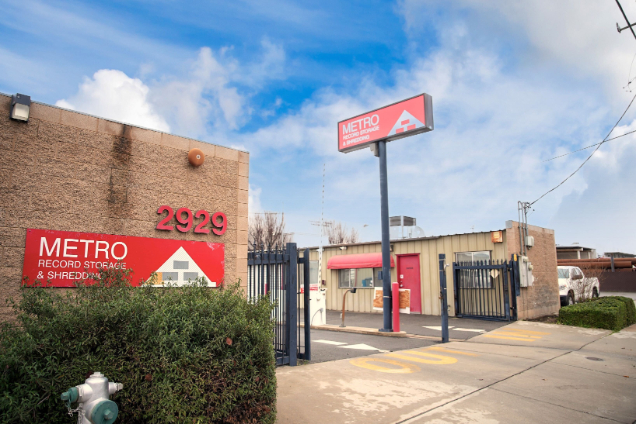 We offer secure storage options and cost-efficient, safe, compliant destruction of paper records and documents, plastics, and media. We provide options for on-site or off-site records destruction, whatever best suits the needs of your business. Whether you require shredding services on a regular basis or have a one-time need while cleaning your offices, be sure to safeguard your information with the most trusted records handling company in Kern County, Metro Record Storage and Shredding. We are AAA certified with the National Association for Information Destruction (NAID).
 Scheduled Drop-off or Pick-up Services
Routine on-site shredding service can be set on your schedule, depending on your company's volume. Collection containers are conveniently placed in your desired location and secured under lock and key. On the service date our courier will shred the contents in our mobile shredding unit, a process the customer is welcome to watch. Collection containers come in various sizes from 95 gallon totes, to office friendly executive consoles. A certificate of destruction is provided for the customer after each visit, guaranteeing their information was properly destroyed and disposed of.

i-SIGMA® is the International Secure Information Governance & Management Association, the non-profit trade association of the information destruction industry. Founded in 1994 originally called NAID.  i-SIGMA® has only one purpose – to champion the responsible destruction of confidential information and materials by promoting the highest standards and ethics.
Today i-SIGMA® is recognized internationally by many policy-makers and is often called upon to provide counsel to organizations developing information security standards and regulations.
Using outside services for data destruction, records storage, media rotation and many other data-related services has become popular because it can be done more securely and economically than it can be done internally.
However, as the financial and regulatory compliance liabilities around data protection increase, customers have come to realize that they are inescapably responsible in the unlikely event a data breach or other loss is caused by those vendors – no matter how it happened.  Let's face it, when 47 states have data breach notification laws, and with HIPAA now requiring data breach notification across the country for breaches involving healthcare information, customers have the right to be concerned.  Fines for improper data disposal, and expenses for data breach notification over the last few years, are in the tens of millions of dollars and continually increasing.
That's why it's common for customers to insist that data-related service providers reasonably indemnify them from any harmful financial consequences they cause.  Unfortunately, many of the professional liability products on the market do not adequately address the risks.
So, how then do customers really know they are protected, when they usually never even see the policy, and if they do see it, they need a lawyer to decipher the language?  The best solution is to require a specific policy developed by organizations worth trusting.
When i-SIGMA first learned that many policies contained loopholes that rendered them useless, it started what turned out to be a 4-year project to put together a product that would provide real protections to it members.
Downstream is not available to just any service provider. i-SIGMA also had another goal when helping to create Downstream; to help lower the cost of dependable coverage to its members. To do that, only service providers subject to the security specifications and audits (both announced and surprise) of the NAID AAA Certification® process are eligible for Downstream Data Coverage.
So, by insisting that your service provider has Downstream Data Coverage, you are not only assured they have dependable professional liability coverage, backed by i-SIGMA's reputation and the resources and integrity of Lloyd's – you are also assured by their NAID AAA Certification® that you are dealing with a service provider whose operations are intensely audited.
(taken from www.downstreamdata.com)
Documents & Records Destruction
Metro Record Storage and Shredding understands that each business has unique compliance regulations and privacy needs when it comes to secure document and records destruction. We will meet with you and review all applicable regulations to ensure that we provide you with the appropriate documentation needed to meet all compliance requirements.
Secure Storage Solutions
Metro Record Storage and Shredding offers secure storage spaces for businesses to store their sensitive documents and records off-site. Long-term retention of business records can be a cumbersome challenge for many businesses, but is critical to compliance and business continuity. If you do not have the storage space on-site, we offer a solution.
On-Site Secure Shredding
Metro Record Storage and Shredding provides secure on-site shredding for businesses and organizations that require immediate destruction of sensitive documents and records.
Off-Site Secure Shredding
Metro Record Storage and Shredding provides secure off-site shredding for businesses that consistently produce confidential or sensitive materials, or that just need occasional services. 
Environmentally Friendly
Metro Record Storage and Shredding ensures that all record destruction is completed in an environmentally friendly manner.
Location
2929 16th Street
Bakersfield, CA 93301
Hours
Mon-Fri: 8am-5pm
Sat: 8am-12pm
Sun: Closed